Motives® Crème Concealer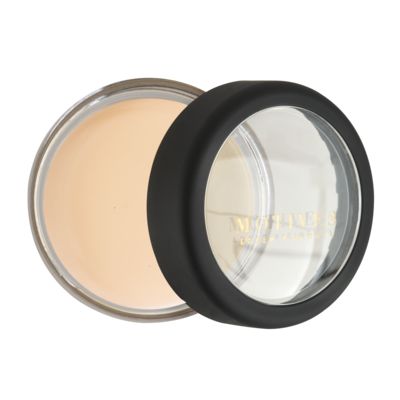 A long-wearing concealer that hides redness, blemishes, and dark circles under the eyes. Covers blemishes and problem areas for beautiful skin that feels smooth and looks flawless.
FEATURED RECOMMENDATIONS
Details
---
A long-wearing concealer that hides redness, blemishes, and dark circles under the eyes. Covers blemishes and problem areas for beautiful skin that feels smooth and looks flawless.
Benefits
---
Keeps you looking great while concealing dark circles, discoloration and hyper-pigmentation
Conditions skin without caking
Crease resistant
Delivers moisture to dry area under eye
Conditions skin and provides antioxidant protection
FAQ
---
I don't wear a lot of makeup. Can I use this product without a foundation?
Yes. The formula for Motives Crème Concealers is thick enough for you to wear to cover up imperfections without wearing much else. For maximum coverage, it's recommended that you wear it with foundation.
Will using this product make my makeup feel heavy?
No. Though the crème concealer is rich, it's also lightweight. It won't make your face feel heavy or bogged down with too much makeup.
How do I know what shade to use?
Concealers do not have to match your skin perfectly. Choose the shade that is closest to your skin tone. If it's in between two, pick the lighter shade. This will brighten those under-eye circles and make you look fresh, but don't forget to blend with your normal foundation!
How do I apply this concealer?
Using a concealer brush lets you smoothly apply concealers resulting in a natural look. Brushes also help to fill in any large pores with concealer so your face will look flawless.
Will using this concealer clog my pores?
No. Motives Crème Concealer is easily removed with a cleanser or makeup remover and won't leave residue.
Ingredients
---
Ascorbyl Palmitate (Vitamin C)
Ascorbyl palmitate is a stable form of vitamin C that has similar vitamin C activity to ascorbic acid. Vitamin C is an important anti-oxidant vitamin that is essential for maintaining your skin's natural collagen. By supporting your skin's natural collagen, vitamin C helps your skin achieve a firmer, suppler, and more youthful glow.
Carthamus Tinctorius (Safflower) Seed Oil
Safflower seed oil is obtained by pressing the seeds of the Carthamus tinctorius plant and is rich in linoleic acid, one of the essential fatty acids. Safflower seed oil acts as a protective barrier on the skin, keeping your skin moisturized and imparting a smooth and soft appearance to your skin.
Hydrogenated Castor Oil
Castor seed oil is derived from the castor oil plant. Castor seed oil has excellent moisturizing properties that help keep your lips hydrated and looking smooth and full. It acts as a skin conditioning agent by forming a protective barrier to help reduce water loss for moisturized skin.
Squalene
Squalene is a natural component of human sebum, a mixture of lipids produced by glands in the skin. It is also found naturally in olive oil, wheat germ oil, rice bran oil, yeast, and other foodstuffs. Squalene acts as a lubricant and conditioning agent to give your skin a smooth and soft appearance.
Tocopherol (Vitamin E)
Vitamin E is a powerful natural antioxidant vitamin that helps to protect and nourish your skin. Vitamin E helps to moisturize your skin while also protecting it from environmental factors, giving your skin a healthy and more youthful appearance.
Reviews
---
Displaying reviews 1 - 5 of 6
---
Love the peach creme concealer
I've fair skin and the pigmentation on my face is obvious.The peach creme concealer is a game-changer for me. Coupled with the Motives mineral foundation, my pigmentation becomes unnoticeable!
---
---
---
---
搭配细部修饰刷使用 Light这款遮瑕痘痘/斑点效果好