Details
---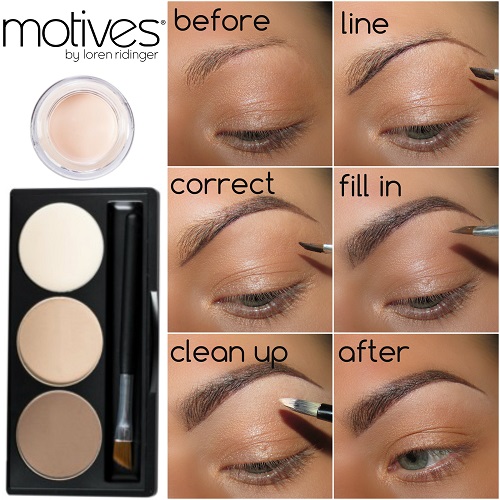 A complete kit for expertly shaping, grooming, and defining your brows. The all-inclusive kit contains wax to sculpt the brows and two powder shades to create a natural look.
Benefits
---
Astonishing powder/wax brow combination that is effortless to apply and provides striking gleam
Apply the smooth powder for striking color and follow with wax for brow-sculpting control with enhanced shine
Enjoy glamorous, shaped and sexy brows all day long
FAQ
---
How do I use Motives Essential Brow Kit?
Using the brush that is included, sculpt your brow with the wax. Next, mix the powder to obtain your desired shade. Apply the shade to the brows to fill in any sparse spots.
What is included in the Motives Essential Brow Kit?
Included in the Motives Essential Brow Kit is brow wax, two brow powders and a sculpting brush.

What if the included shades do not match my eyebrow color?
If the included shades do not match your eyebrow color, you may add Motives Pressed Eye Shadow in a color that better matches your brows. Using the wax, sculpt your brow, and then apply Motives Pressed Eye Shadow to the brow.
Does Motives Essential Brow Kit contain any beneficial ingredients?
Motives Essential Brow Kit contains vitamins C & E which provide antioxidant protection and hydrate the skin. Dimethicone and beeswax allow for smooth application of the brow wax and powder, ensuring your brows will look picture perfect.
Is Motives Essential Brow Kit made from cruelty-free practices?
Yes, Motives Essential Brow Kit is made cruelty-free.
Ingredients
---
Ethylhexyl Palmitate
Ethylhexyl palmitate is produced from palmitic acid, a naturally occurring fatty acid found in plants and animals. It acts as a lubricant on the skin's surface, giving the skin a soft and smooth appearance.
Dimethicone
A silicone based polymer, dimethicone acts as a skin conditioning agent to slow water loss from the skin by forming a barrier on the skin's surface. Dimethicone is also well known for its flow properties, which enhance the smooth application of personal care products.
Ascorbyl Palmitate (Vitamin C)
Ascorbyl palmitate is a stable form of vitamin C that has similar vitamin C activity to ascorbic acid. Vitamin C is an important anti-oxidant vitamin that is essential for maintaining your skin's natural collagen. By supporting your skin's natural collagen, vitamin C helps your skin achieve a firmer, suppler, and more youthful glow.
Caprylic/Capric Triglyceride
Caprylic triglyceride is oil that is made from coconut oil for use in cosmetic and personal care products. The oil helps reduce the loss of moisture in the skin by forming a protective barrier on the surface that holds in water.
Cera alba (Beeswax)
This wax from honey bees provides a luxurious consistency that allows for a smooth and even application.
Tocopherol (Vitamin E)
Vitamin E is a powerful natural antioxidant vitamin that helps to protect and nourish your skin. Vitamin E helps to moisturize your skin while also protecting it from environmental factors, giving your skin a healthy and more youthful appearance.
Reviews
---
There are currently no reviews for this product.