Details
---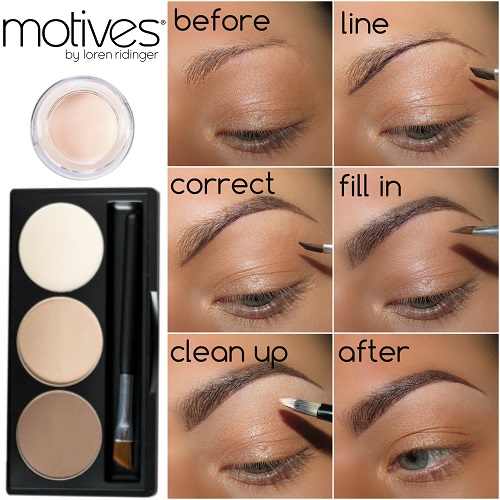 A creamy, weightless formula that helps smooth and even the complexion of the eyelid, creating a perfect canvas for eye makeup. This formula extends the wear of eye shadow, prevents creasing, and makes shadow colors more even, intense, brilliant-looking, fresh, and just-applied all day.
Benefits
---
Smoothes and neutralizes the eyelids.
Keeps eye shadow from creasing.
The eye color stays true
FAQ
---
How should I use Motives Eye Base?
Smooth Motives Eye Base over bare lids before applying eye makeup.
Why should I use a base before applying eye shadow?
The natural oils in your skin can make shadows crease or run when they are in contact with an eye shadow. Applying a base before the shadow puts a buffer layer in between the oils and the shadow making the shadow look better and stay on longer.
Does the color of the base matter?
No. Because the purpose of the base is to hold onto eye shadow color, the color of the base itself is less important.
Can I wear Motives Eye Base without wearing any eye shadow?
Yes. The base eliminates the appearance of shiny eyelids, so you can use it just to reduce shine as well.
I have sensitive skin. Can I use Motives Eye Base?
Yes. Motives Eye Base will not irritate sensitive skin because it is made with gentle ingredients.
Ingredients
---
Cyclopentasiloxane (Cyclomethicone)
Cyclomethicone is a widely used silicone in hair and skin conditioners. As a silicone, it provides finished skin and hair care products with an excellent feel and ease of application. Additionally, cyclomethicone, like other silicones, has the ability to help deliver active ingredients to the skin and help the skin retain moisture by slowing water loss.
Cera alba (Beeswax)
Wax from honey bees provides a luxurious consistency that allows for a smooth and even application.
Dimethicone
A silicone-based polymer, dimethicone acts as a skin conditioning agent to slow water loss from the skin by forming a barrier on the skin's surface. Dimethicone is also well known for its flow properties, which enhance the smooth application of personal care products
Reviews
---
Displaying reviews 1 - 3 of 3
It is creamy yet lightweight and smooth on my eyelids. Perks up and brightens my eye area upon application. It makes my eye shadow true to its colours and lasts all day!!! A jar of it lasts a long time. Definitely, a must-have if u are an avid eye makeup wearer like me! ❤
My eye makeup never smears anymore
Until I met this product, I thought it was my Asian eye problems that caused the smears in my eye makeup. But now I know, it was because I didn't have this eye base before eye make up. Thanks to Motives for producing such quality product and solving my eye make up problem!