Details
---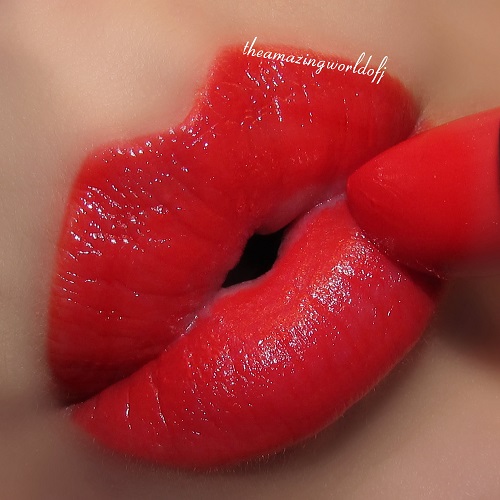 A creamy, colorful and moisturizing mineral lipstick. Get a polished look with full coverage and a rich finish of matte, shimmer or pearl.
*Shade Pictured: Citrus
Benefits
---
Moisturizes and conditions for softer lips.
Silky texture that glides on smooth.
Vitamin E helps protect against environmental factors.
Helps to inhibit moisture loss.
Paraben free.
*Shade Pictured: Petal Pink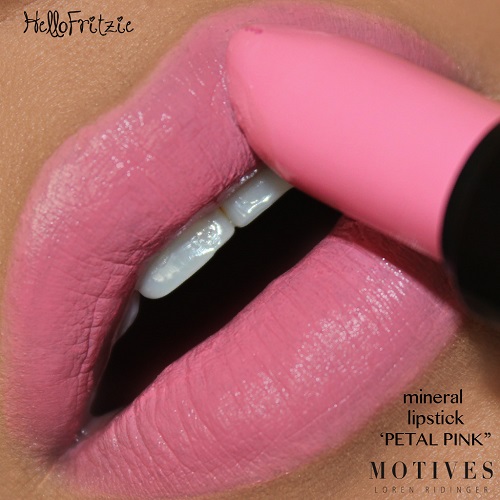 FAQ
---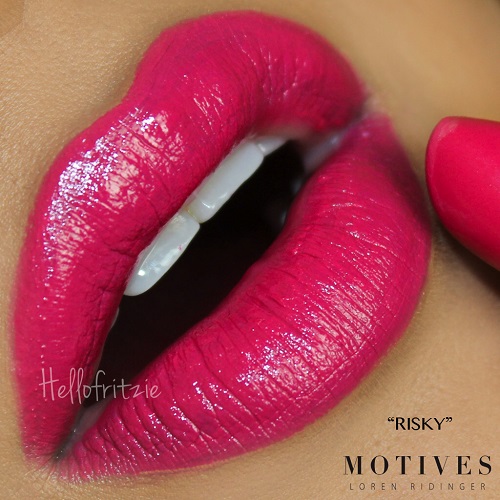 How do I apply Motives Mineral Lipstick?
Apply Motives Vitamin E Lip Treatment first to smooth out the lips and restore moisture content in lips to provide extra hold throughout the day. Gather Motives Mineral Lipstick on Motives Lip Brush and begin by lining the lips. After lining is complete, fill in the rest with Motives Lip Brush or lipstick tube. Now your look is flawless and complete!
Why should I use Motives Mineral Lipstick?
Motives Mineral Lipstick is available in six shades that will enhance your natural lip color. Motives Mineral Lipstick utilizes natural minerals, extracts, and vitamin E to moisturize and protect your lips throughout the day.
Can I use Motives Mineral Lipstick with non-mineral products?
You may use Motives Mineral Lipstick with non-mineral products, although we recommend using it with other Motives mineral products. Motives mineral products offer natural finishes that feel light on your skin, so to keep your look consistent, use Motives Mineral Lipstick with Motives Mineral Powder, Blush and Eye Shadow.
Can I use Motives Mineral Lipstick after plastic surgery?
Motives Mineral Lipstick is made with natural minerals and oils that condition lips, making it gentle for use. Make sure to check with your physician before you start to use makeup again, and always wait to apply makeup until your incisions have healed. It is recommended that you use new applicators for your makeup after any surgical procedure to reduce the risk of irritation.
*Shade Pictured: Risky
Ingredients
---
Ricinus Communis (Castor) Seed Oil
Castor seed oil is derived from the castor oil plant. It acts as a skin conditioning agent by forming a protective barrier to help reduce water loss for moisturized skin.
Caprylic/Capric Triglyceride
Caprylic triglyceride is oil that is made from coconut oil for use in cosmetic and personal care products. The oil helps reduce the loss of moisture in the skin by forming a protective barrier on the surface that holds in water.
Lanolin Oil
Lanolin oil, extracted from sheared wool, is highly regarded in the cosmetic industry for its moisturizing properties. Lanolin oil lubricates the skin to give a smooth and soft appearance.
Euphorbia Cerifera (Candelilla) Wax
Candelilla wax is obtained from the plant Euphorbia cerifera. The wax is used in cosmetics to give lipstick structure for smoother application and keeping the lipstick whole.
Vitamin E
Vitamin E is a powerful antioxidant that helps protect skin from environmental factors, while conditioning and moisturizing for soft, smooth skin.
Reviews
---
Displaying reviews 1 - 3 of 3
Lightweight mineral based
I love this product because it is mineral-based so I know it doesn't damage my skin. It is also very long-lasting. Also, doesn't have strange smell or taste that other brands have. Also other brands feel heavy and weighty on my lips. This product feels lightweight and you can barely feel it on .
The colour is so nice and it's so moisturing
My Motives Mineral Lipstick review
It gives such perfect matte to my lip, love it!