Skintelligence™ Travel Kit
RM157.00
AutoShip price:
RM149.15
Includes one Hydra Derm Deep Cleansing Emulsion, one Daily Moisturizer Enhancer, one pH Skin Normalizer, one Alpha 24 Triple Revitalizing Complex and one Skin Perfecting Complex
|
sku: MY12601
This product qualifies for free or flat-rate cost shipping. Learn More
Details
---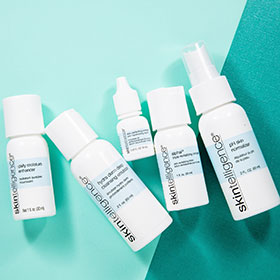 Using the right skincare system regularly is essential to maintain beautiful, healthy, youthful-looking skin. Don't let traveling interfere with your regimen. Tend to your skin on the go with the Skintelligence Travel Kit which features Skintelligence Hydra Derm Deep Cleansing Emulsion, Skintelligence Daily Moisture Enhancer, Skintelligence pH Skin Normalizer, Skintelligence Alpha 24 Triple Revitalizing Complex and Skintelligence Skin Perfecting Complex. With this kit, you can cleanse, moisturize, balance, exfoliate and smooth the appearance of fine lines and wrinkles. Use this kit while traveling or as an introduction to Skintelligence products.
Benefits
---
Convenient, TSA-compliant travel sizes
Ideal and effective for all skin types and conditions
Formulated with botanical ingredients which nourish and soothe the skin
FAQ
---
How long will the travel-sized bottles last?
If used daily, the travel sizes last for one to two weeks.
In what order do I use these products?
Start with the Hydra Derm Deep Cleansing Emulsion to get all the daily dirt off of your skin. Next, spray on the pH Skin Normalizer, followed by the Skin Perfecting Complex. You then use the Alpha 24 Triple Revitalizing Complex and finish with the Daily Moisture Enhancer to lock in your skin's moisture.
Who should use Skintelligence Travel Kit?
This product line works well with all skin types, but is designed for normal to oily skin. If you travel frequently for periods of at least a week, this kit is a great choice for you.
How often do I follow this regime?
Use these products twice a day—once in the morning and once in the evening with the exception of the Alpha 24 Triple Revitalizing Complex, which only needs to be used once in the mornings.
Most similar products I've tried leave my skin feeling oily, is that the case with the Skintelligence Travel Kit?
No, this product line leaves skin feeling hydrated, but not heavily-so.
Are the products in the Skintelligence Travel Kit tested on animals?
Skintelligence does not conduct or commission animal testing of any finished product.
Ingredients
---
Please see individual product page for ingredient information.
Reviews
---
There are currently no reviews for this product.